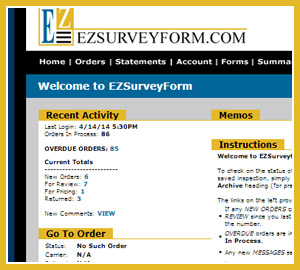 EZ Survey Form (EZS) is an Internet-based suite of tools for the loss control/risk management industry, and other industries with similarly data-intensive needs.
Our platform evolved over a decade of daily use by commercial lines property inspectors to request, complete, review and deliver complex inspection reports. It also manages all back-office processes, complete with billing and bookkeeping, account management, performance reports and data management.
We built EZS for efficiency and user-friendliness. The software gives the non-technical field force an easy-to-use, well-organized user interface with which to gather their inspection data. This is why EZS has become an industry standard, and why we continue to develop EZS too keep up with changes in technology, like smartphones and tablets.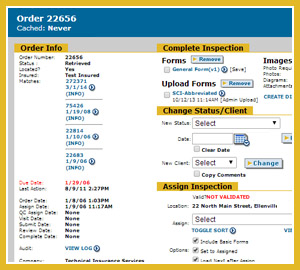 In 2003, commercial lines property inspectors were filling out numerous paper forms with complex data that had to be processed manually at high volumes by the back office. 

We teamed up with one of our clients in the loss control/risk management industry and spent the next few years building an Internet-based platform that streamlined the process to achieve a much higher level of efficiency and accuracy.
Today, we offer EZS as a software-as-a-service (SaaS) to a large swatch of the loss control/risk management industry. We are expanding EZS into other industries with similar demands of a user-friendly interface to record and process complex data, connecting agents in the field to the back office.
EZS has grown by offering a number of attractive value propositions for businesses with field agents collecting complex data for back office processors:
EZS enables businesses that are drowning in paperwork to go paperless and become orders of magnitude more organized and efficient.
EZS improves accuracy with "smart" forms, quality control mechanisms and other premium features that mitigate human error.
EZS grows side-by-side with the needs of the industries we serve, and features can be custom-tailored to our clients' requests.
EZS does not require extensive training to use. We designed the platform to be accessible to any level of computer user. An EZS form is easier to fill out than a paper form.
View our testimonials to hear from business leaders on why they chose EZS.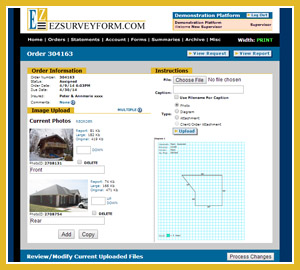 Our platform needed to provide a high degree of customization. Companies doing the same business in the same industry often had great differences in process and protocol. For this reason, the forms that comprise the front-end of the system can be adapted to mimic any existing paper form, yet made "smart" through use of conditional logic, expanding tabular data, recommendation generation and more.
The power to customize had to be matched with an intuitive system to achieve these customizations, so that back-office end users could easily put together their own forms and processes. By closely working with many different companies, we've honed our platform into a Swiss army knife of customization features that are just as easy to use.
With a streamlined quality control system, EZS provides industry-leading accuracy, efficiency and quality control at high volumes using multiple reporting and review mechanisms. It's all built for speed, security, and compatibility across multiple devices, including the mobile phones and tablets popular with those in the field.
EZS runs on servers with redundant Tier 1 Internet connectivity, and are monitored 24/7 in a secure data facility. Offsite full backups are performed daily. Additionally, we have a complete remote mirror system. Security and redundancy are priorities with such high-value data.