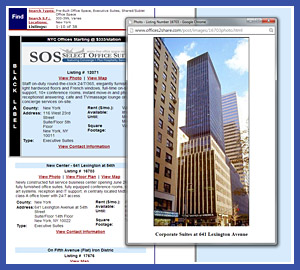 O2S was founded in 1999 to help startups and small businesses find affordable alternatives to long-term commercial leases and expensive up-front costs of "traditional" office space. We created a new marketplace that connects office-seekers with companies with ready-to-use, short-term office space available.
Using O2S tens of thousands of companies have listed and found executive suites, shared/sublet office space, pre-built office space, and other types of working space in all 50 U.S. states.

Visit Offices to Share Website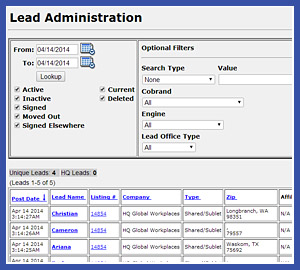 Today it may seem like a relatively normal use of the internet to connect owners of unused office space with companies and freelancers seeking it. But in 1999, it was anything but.
Founder Jeffrey A. Landers saw the potential of the Internet to connect people early on. He combined this instinct with his background as a commercial real estate executive, approaching us to design and deploy the Internet's first direct business-to-business marketplace for office space rental.
Technically speaking, the O2S model is a form of subleasing. From a single desk to the an entire wing of a building floor, emerging businesses don't have to spend an arm and a leg just to get their foot in the door. Typically, these spaces come with shared use of common areas and other facilities and amenities, often including furnishings and utilities.
The benefits of O2S over the traditional leasing experience are obvious. Companies with excess space get a fast, easy, inexpensive way to find tenants. Businesses seeking office space can find vacancies in their city, available on a short-term basis with the added value that often accompanies a shared office infrastructure.
The platform had a steady and heady climb to success during the dot-com boom. At its height, the O2S system was completing $1M+ of signed leases per month. Today, Zelacom manage the Offices2share.com website, and a comprehensive upgrade is underway.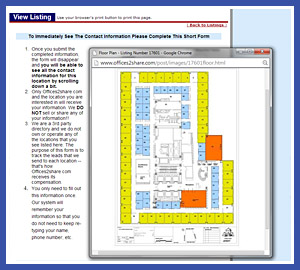 Our user experience is streamlined for speedy searches, listings and closings. Those seeking a great deal on premium office space simply enter their search criteria (such as location, size, price, etc.) and filter thousands of listings down to a select few. The platform facilitates the communication and transaction between both parties. In no time, an office space owner has monetized a once-vacant space, and a business owner has found the perfect spot to grow at a maximum value. It is just as easy to create a listing.
Under the hood, achieving this intuitive user experience required a MS-based server environment customized for high-volume data processing, including realtime transaction processing.
The success of the model hinged on our unique lead generation strategy, which was constantly optimized to ensure O2S stood out against its competition in a hyper-competitive industry. A key part of this strategy was built into the software, which tied into a call center that serviced leads by conferencing in listing agents. We also leveraged AdWords to achieve high SEM conversion rates, exploiting Google's advertising platform as it emerged in order to generate a large and loyal user base for O2S.